This years' home building industry survey shows how home-builders keep high levels of customer satisfaction at the forefront of their priorities. Over 90% of new home-buyers surveyed say they would buy a new build home again, whilst over 86% say they would recommend their home-builder to a friend.
Barratt, CALA, St Modwen and Bellway Homes are just some of Countrywide Telecoms' home-building clients who have achieved 5 star ratings on the survey. The five star accolade is only given to companies where more than 90% of their customers would recommend the housebuilder to a friend. CALA said, "CALA has built a longstanding reputation as an award-building homebuilder, but this recognition is particularly meaningful as it comes as a direct result of positive feedback from our customers." For CALA, this comes after a year of record growth, with more than 1600 homes sold across the UK, an increase of 4% from last year. The 5 star rating shows that despite the company becoming larger, it has not sacrificed customer service as a result; in fact, customer service has improved.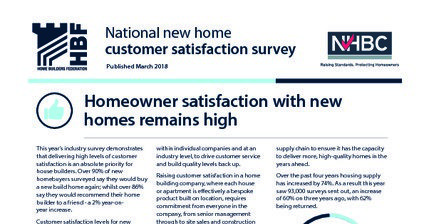 NHBC runs two customer satisfaction surveys to support the home building industry. The National New Homes Survey is first sent to homeowners eight weeks following the date of legal completion. A second NHBC survey is sent at nine months, after homeowners have settled into their new home. This is what homeowners said after nine months.
"Excellent customer service after completion. Staff are friendly and helpful, and keen to rectify any issues."
"Great quality build – this is repeatedly mentioned whenever we have friends and family to visit!"
"Very quick response to any questions or reports of snags by the lady in the sales office. Was also impressed with the follow-up telephone calls to ensure work had been completed and that I was happy. Excellent service."