What is VoIP and why you need it
VoIP for Business
What is it?
Voice over Internet Protocol (VoIP) is a type of technology that allows its users to make calls using the broadband Internet rather than the conventional or analog phone system. VoIP works by converting sound into digital voice communication and then transferring it through Internet broadband. So if you are using a Voice over Internet telephone system, you are basically using the Internet to make phone calls.
All interesting – but why is it relevant?
Using a VoIP system has several benefits for many businesses.
The cost of using a Voice over Internet telephone is much cheaper than using a conventional phone. Making long distance phone calls are also cheaper when using a VoIP provider.
The convenience and comfort provided by a Voice over Internet telephone system is available all over the world. Using any broadband connection, you can log in to your telephone, and you will get a dial tone. Regardless of where you are, if you have Internet access, there should not be any problems in terms of costs and connections. VoIP systems are also accessible via email or while you are traveling. Simply take your headset or IP phone, and you can contact staff or clients with a low cost call.
 There are a number of business phone service options available that make retrieving and maintaining your business messages very simple. With Voicemail Transcription, you can read the message in your inbox, or receive it as a text instead of listening to it. Let's say a client calls you about a fax he needs, and leaves a fax number on the message. With a few clicks you can virtually send the fax as a PDF to that number.
Aside from making phone calls, you can also conduct videoconferencing calling through your Voice over Internet phone. This allows you to stay in touch with your co-workers and clients to discuss important deals, affairs, meetings, files, documents, agendas, no matter where you are. Even while you are abroad attending to meetings, you still have the capacity to attend other important meetings in the home office without having to worry about being physically present.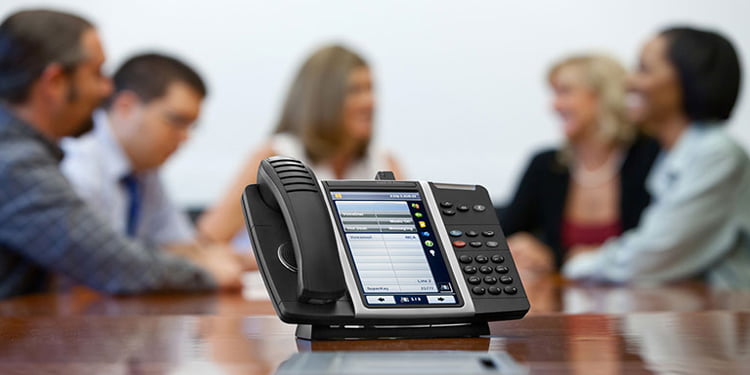 What do we provide?
Our hosted  solutions for business offers a feature-rich business telephony system that is essential to any unified communications offer. From hunt groups and auto attendant functionality, to fixed mobile convergence applications and the ability to make/receive business calls on all personal mobile devices, our solution brings a myriad of opportunities to your organisation. We also provide all our customers with an online management portal, so you can get back control of your phone system.
For more information see our page on VoIP Solutions.